Viv and Kev got a new house, so we bought some wine and went to visit.
Viv i Kev kupili nowy dom. No to my kupiliśmy wino i poszliśmy w odwiedziny.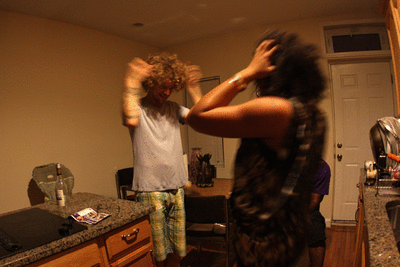 Glenn has grown quite a mane, and Viv has gone natural. I envy them both. The get together turned into an afro-off.
Glenn wyhodował grzywę, a Viv nosi ostatnio swoje naturalne włosy. Zazdroszczę obojgu. Spotkanie przemieniło się w bitwę na afro.
The day after Irene's visit, we went to see the damage. There was none. But Fells Point looked like it was invaded by Jersey Shore. We were terrified. It wasn't until later that someone solved the mystery - New York Yankee fans were in town for the weekend.
W dzień po przejściu Irenki pojechaliśmy na nadbrzeże zobaczyć straty. Nie było żadnych. Natomiast jedna z naszych ulubionych dzielnic, Fells Point, wyglądała jakby najechał ją Jersey Shore. Byliśmy przerażeni. Dopiero później ktoś nam uświadomił, że kibice nowojorskich Jankesów byli przez kilka dni w mieście.
We popped into Max's, a bar we used to frequent for early Saturday afternoon beer and darts. Things have changed and the darts are gone, but the beer is still there!
Odwiedziliśmy Max's, dokąd kiedyś regularnie chadzaliśmy we wczesne sobotnie popołudnia na piwo i rzutki. Pozmieniało się i rzutek już nie ma. Ale piwo nadal jest!
Later, Lee had to go to work, and I met up with Aga for lunch and a walk along the harbor.
Potem Lee pojechał do pracy, a ja umówiłam się z Agą na lunch i spacer wzdłuż nadbrzeża.
The Seven Foot Knoll Lighthouse is one of Baltimore's most recognizable landmarks. But not everyone knows its curious past. At least two keepers in the history of the lighthouse broke the rules and brought their families with them. Of course, back then the lighthouse was not sitting on the shore, it was surrounded by the waters of the Chesapeake Bay. A daughter of one of them, who was born in the

Seven Foot Knoll, wrote a fascinating memoir of what it was like to live there. Excerpts of it are available here. It holds some special interest to me, since a few years back we considered volunteering at the Dry Tortugas Lighthouse, something we still might do in the future.
Latarnia Seven Foot Knoll jest jednym z najbardziej charakterystycznych budynków w Baltimore. Ale nie każdy zna jej niezwykłą historię. Na przestrzeni lat co najmniej dwóch latarników złamało zasady i sprowadziło do latarni swoje rodziny. Oczywiście wtedy latarnia nie stała na wybrzeżu, tylko otoczona była wodami Zatoki Chesapeake. Córka jednego z nich, która zresztą urodziła się w Seven Foot Knoll, spisała swoje fascynujące wspomnienia dotyczące życia w latarni. Ich fragmenty są dostępne tutaj. Są one dla mnie tym bardziej interesujące, że kilka lat temu rozważaliśmy wolontariat w latarni na Dry Tortugas. Niewykluczone, że to jeszcze przed nami.
Wojskowe okręty szukały schronienia przed Irenką w baltimorskim porcie.
The Inner Harbor is a typical commercial part of the city where a killing is made off tourists. I hope they do decide to venture to other neighborhoods! We stopped at one of the temptation stores.
Inner Harbor jest typową konsumpcyjną dzielnicą trzepiącą kasę na turystach. Mam nadzieję, że turyści decydują się wyściubić poza nią nos! Zajrzałyśmy do jednego ze sklepów-lepów.
I loved this list. Please, pretty please, and you're buying entered my dictionary and it will be staying for a while.
Strasznie mnie rozbawiła ta lista. Please, pretty please, and you're buying weszło na stałe do mojego słownika.
The larvas and crickets were tempting but also full of chemical additives.
We did not buy anything but it was nice to walk around and window shop.
Larwy i koniki kusiły, ale miały w sobie mnóstwo chemii.
Nic nie kupiłyśmy, ale jak to mawia Aga, fajnie było się pogawronić.
A few blocks away from our house, there is On the Hill Café, an awesome coffee shop slash sandwich shop. One night, when we were not into cooking, we went to get a carry-out from them. Clockwise: fries with smoked paprika; yuca fries with cilantro mojo; a sandwich with balsamic beets, goat cheese and avocado; and a salad with spinach, tuna in olive oil, garbanzo beans, hardboiled eggs, capers, tomatoes and marinated onions. I could not-cook like this every night!
Kilka przecznic od naszego domu znajduje się On the Hill Café, fantastyczna kawiarnio-kanapkarnia. Pewnego wieczoru kiedy nie chciało nam się gotować, kupiliśmy kilka rzeczy na wynos. Zgodnie z kierunkiem wskazówek zegara: frytki z wędzoną papryką; frytki z manioku z towarzystwem kubańskiego sosu mojo z kolendry; kanapka z balsamicznymi burakami, kozim serem i awokado; oraz sałatka ze szpinaku, tuńczyka marynowanego w oliwie, cieciorki, jajek na twardo, kaparów, pomidorów i marynowanej cebuli. Tak nie gotować mogłabym codziennie.